Electronic Magnifiers and Close Circuit Televisions (CCTVs) are also known as Video Magnifiers. Reading ability can be restored for those with macular degeneration and low vision. These low vision aids use a variable power magnifying camera (low to very high) and a video monitor of different sizes.
They offer a variety of contrast options, such as reverse (white letters on a black background) or black letters on a yellow background. Altering the contrast can often make reading easier and less tiring.
Portable Video Magnifiers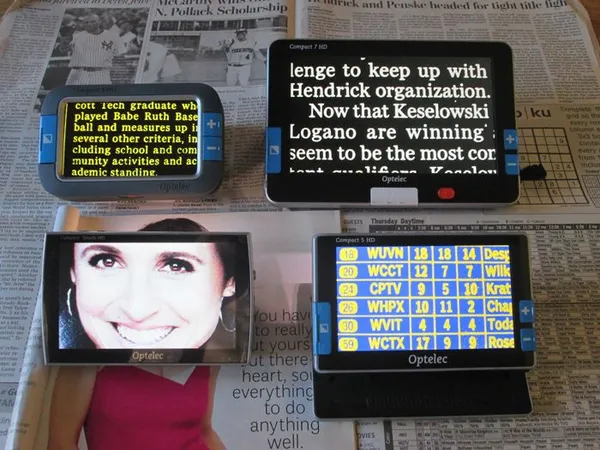 While not providing as much total magnification as a desktop unit, they are easily transportable since the screen is 3.5" to 5" in size. They also have several contrast options and three or four levels of magnification.
They are used for activities such as seeing photographs, reading grocery store labels, menus, prescription bottles, or scanning mail. or feature allows photographs of family and friends to be enjoyed.
Desktop Video Magnifiers
These units have large LCD flat screen monitors ranging from 19" to 24". They provide the highest levels of electronic magnification with the greatest field of view. Under the camera at the base is a moveable tray for easier viewing and writing.
These units are strongly recommended for reading longer materials, such as newspapers or books. They are often the best for writing, filling out checks and forms, viewing photographs, or doing handiwork.
A special feature is their ability to temporarily capture and freeze an image being seen. This is helpful for looking at objects on a shelf over head or at dials at the back of a stove.