Implantable Miniature Telescopes (IMTs) are micro-telescopes inserted into one eye providing a magnified central image to improve vision in patients with advanced macular degeneration.
Dr. Kinkade is part of the first doctor team to bring the IMT to Connecticut.
New IMT Treatment For Macular Degeneration
Candidates for the IMT have no other medical treatment options. Up to now, these patients have been told by their doctors "sorry there is nothing we can do for you".
The IMT is not a cure for macular degeneration, but rather a rehabilitation tool used to enhance remaining vision.
Dr. Kinkade has have been fitting Spectacle Mounted Microscopes, SMTs, for over 20 years to help patients see better. For certain patients, the IMT may offer a better rehabilitation option.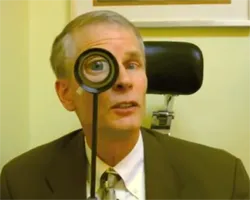 The IMT replaces a developing cataract in the eye and is about an 1/8th of an inch in length. It fits behind and through the pupil.
The IMT is a technological wonder and the surgery is 21st century medicine. It is the closest we have to a bionic eye because is replaces some of the lost precision vision, but it is the therapy after surgery that we see the real gain in useful vision.